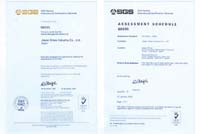 ISO9001 certificate
FDA registration

As a supplier of medical containers, quality control of products is the most important issue for us. "ISO 9002", obtained in 1996 and renewed to ISO 9001 in 2002, guarantees not only the quality of our products and service but also the overall standard of our system, as it is awarded by the International Standardization Organization which sets a universal, world-wide standard. Based on this, we are striving for stricter quality control by digitalizing all production and inspection lines as well as compiling detailed manuals for each line.

The data obtained from the quality control room and recorded on computer are important as guarantees of quality. Retained samples are kept for 6 months and used for follow-up surveys and the improvements in quality.

We actively promote personnel training, with many kinds of in-house qualifications, based on the ISO standardization manual, to upgrade employees skill. The workers and the production line combine, "man and machine as one", with the aim of realizing the highest levels of quality control. This is the "JGI system", of which we are very proud.